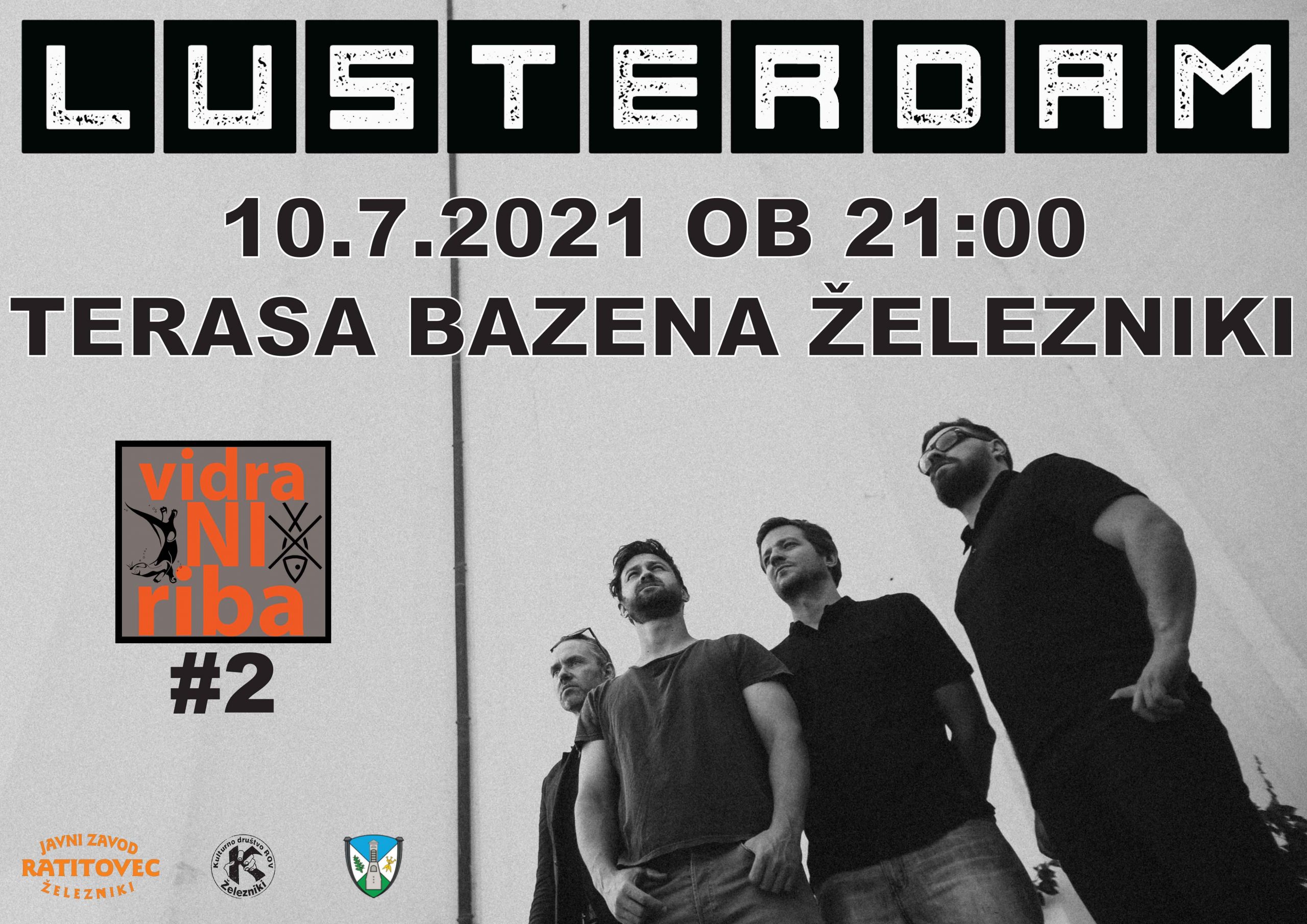 https://www.rocker.si/lusterdam-nadaljujejo-z-nastopi-v-zeleznikih/embed/#?secret=eP6BHGfjSK
Lusterdam so band po žilah katerega se pretaka post-rock in kitarski pop, s primesmi grungea in countryja.
Zasedbo sestavljajo Hieronim Vilar (vokal, kitara) – gonilna sila banda, Mirko Medved (kitara), Jure Volgemut (bobni) in Ven Jemeršič (bas).
Po uspešnem in intenzivnem letu 2019 v katerem so predstavljali enega boljših slovenskih albumov 'Lepo mi godrnjaš' (izdan sept. 2018), vam bo Lusterdam na njihovem koncertu premierno predstavil nov single Tam drevesa rastejo počasi. Plesne korake boste lahko urili še ob njihovih uveljavljenih hitičih 'Lepo mi godrnjaš', 'Mesec', 'S kolesom sem prišel' (vse tri popevke tedna na Valu 202), 'Moram', 'Bele Miši', 'Sonce' itd. Da bo noč pestra in jutranja kava polna novih zgodb, pa vam bodo muzičarji Lusterdama predstavili tudi nekaj še toplih in svežih skladb, ki jih pripravljajo za naslednji album. Pridite na top balzam za ušesa in počitek za oči!
Lepo mi godrnjaš – https://www.youtube.com/watch?reload=9&v=4WcOVvkko04
S kolesom sem prišel – https://www.youtube.com/watch?v=uqWNMPPCAl0
Mesec – https://www.youtube.com/watch?v=M170aou273w
Več o Lusterdam najdete na:
Web: http://lusterdam.si/
Youtube: https://www.youtube.com/lusterdam
Facebook: https://www.facebook.com/lusterdamband
Instagram: https://www.instagram.com/lusterdam/
BIO english:
At the peak of the hype Lusterdam are coming to LOCATION on DAY, DATE. The concert will introduce you to their post-rock world of romance with expressive lyrics. Recently released debut album includes already recognised songs »Lepo Mi Godrnjaš« and »Moram« as well as the ballad »Mesec«. The songs move somewhere between dreamy post-rock and guitar pop, with occasional trips to country and grunge.
Lusterdam is a slovenian rock band consisting of 4 experienced musicians (and filmmakers): Hieronim Vilar (vocals, guitar), Mirko Medved (guitar), Jure Volgemut (drums) and Ven Jemeršić (bass guitar).